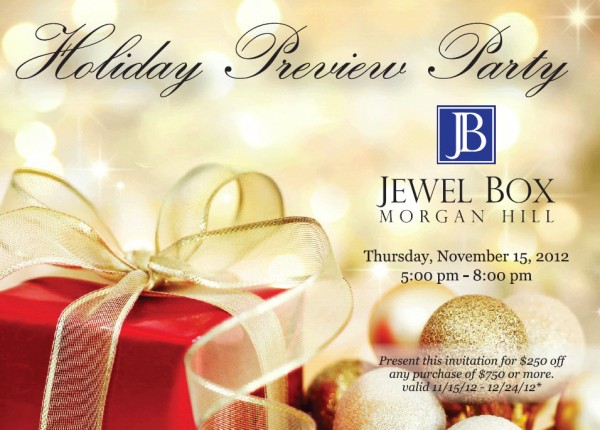 Is Jewelry on Your Holiday Shopping List?
If so, better save the date! Jewel Box of Morgan Hill is having a party… and YOU are on the guest list. Start your Holiday Shopping early or add goodies to your Wish List on Thursday, November 15th, 2012 from 5:00pm-8:00pm. The Holiday Season is such a special time and we're ready to give you a sneak peek at what we have in store.
A Diamond Earring Raffle and Special Preview Pricing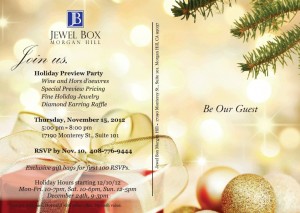 Come for the wine and hors d'oeuvres and stay for the special preview pricing and diamond earring raffle. Yes, you heard it right! Imagine winning a beautiful pair of diamond earrings that you can wear and "Bling In The Season" in style or give as an amazing gift! We'll even have exclusive gift bags for the first 100 who RSVP by November 10th. So call the store ASAP at 408-776-9444 to make sure you make that exclusive gift bag list!
Special Discounts and Holiday Shopping Continues
When you print out this blog post and bring it into the store any time from 11/15/12 to 12/24/12 you will receive a special discount of $250 on your purchase of $750 or more! (One discount per customer and the printed blog post has no cash value.) We have so many wonderful gift ideas that you may even find a little something for yourself in the process. We encourage you to buy a little something for someone else and another little something as a treat… Just for you. And with this discount, you can do just that!
Extended Holiday Shopping Hours in Morgan Hill
Starting Monday, 12/10/12 we will extend our normal hours to make certain you get your gift-giving handled. Starting on the 10th we will be open M-F 10am-7pm, Saturdays 10am-6pm and Sundays Noon – 5pm. On Tuesday, December 24th, Christmas Eve, we will be open from 9am-3pm to accommodate those last minute gifts. We look forward to seeing you soon!
Jewel Box of Morgan Hill
17190 Monterey Street – Suite 101
Morgan Hill, California 95037
Call 408-776-9444
Visit us on Facebook
Jewelry Repair | Watch Repair | Engagement Rings | We Buy Gold