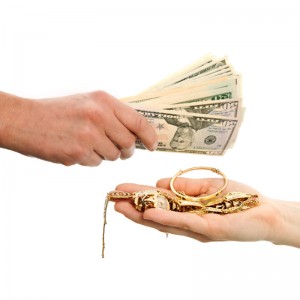 Yes… We Buy Gold!
We offer the best price in the area and pay you via check for your gold and other precious metal on the spot. Simply bring your fine jewelry, gold of any carat, numismatic coins and gold or platinum scrap pieces into our store and wait while we test it, weight it and write your check. Yes, it is that easy.
In order to comply with California state law and prevent the circulation of stolen goods, please know in advance that we will ask to see a valid driver's license or state ID. Ultimately this is a practice that serves you and insures we do business with only the honorable people of the area. We appreciate your understanding in this matter. We look forward to seeing you at the Jewel Box of Morgan Hill.
Sell, Trade or Consign Your Old Jewelry
SELL – It's a great time to sell your gold or other precious metal. If you have old jewelry, numismatic coins or other precious metal objects stashed in a drawer, now is a great time to sell, trade or consign those pieces at the Jewel Box of Morgan Hill.
TRADE – While we pay the highest prices in the area for your gold, some of our jewelry-loving clients opt to take payment in trade. By doing this, they realize even higher compensation. Trading in your old metal for new goods or services is a great way to save money while you get that piece, or pieces, of your dreams!
CONSIGN – For even greater return, especially on jewelry items with significant stone content, consider consigning your pieces with us. We will clean, polish and prepare your jewelry for sale. We will let you know the intended split and place it in our case. Hundreds of clients pass through our store every week and you never know who might be in the market for the exact piece you are looking to sell.