Reviews from Facebook
JEWEL BOX MORGAN HILL … EXCELLENCE!! I took my ring in for repair, I received it from my Mom before she went to heaven, they repaired it so beautiful! Oh and my bracelet it's beautiful it's looks great and looks so secure. Thank you All… There service is excellent!!!
My husband & I were looking for a jeweler who could customize our wedding bands with genuine sapphires. Surprisingly most, retail chain, jewelers use lab created gemstones & they can only provide mass produced styles. I'm so happy that we found JB of Morgan Hill! They were able to create our custom rings exactly to our specifications. The final product left me speechless! Thank you for your help!!
What a wonderful treasure to have in Morgan Hill! I have had a few items repaired there and each time they did an amazing job. Everyone is so helpful and patiently answers my questions.
Had the most amazing experience here. I didn't feel pressured or rushed. They really got to know me. They listened and are creating the most beautiful custom ring for me! Hats off!
Sent my boss in to have her ring fixed and what she came home with is gorgeous. Just what she wanted. Something nice and simple butt with a little pop. (She lost a diamond and needed a new something to put in its place)
Awesome store and wonderful staff! I took my grandmother's ring in for repairs. The jeweler took amazing care of it, crafting a new undercarriage and replacing some missing stones. I would highly recommend the Jewel Box Morgan Hill to anyone, but especially to those of you who want repair or reset old jewelry.
Thank you for the Great Customer Service. I stopped in for the first time last night right before closing. I was planning to drop off two watches. I was pleasantly surprised when both of my watches were fixed while I waited and my rings were cleaned to a sparkle. I will definitely be back with the jewelry I need sized and repaired. Thank You for making me feel so welcome.
My ring I got for my anniversary was absolutely perfect!
Beautiful jewelry and friendly people!
Everyone should shop here!! Great, friendly staff, and beautiful jewelry!
Reviews from Google
Very helpful staff with a relaxed atmosphere.
Amazing – great place to buy wedding rings and much more – awesome prices – people there treat you great – great service – personal attention.
I feel like I should own stock in this place, the wife loves it. Nice people.
Very helpful with getting my watch fitted.
Had my son's watch repaired here a while back. Reasonable price, was not pushy to buy anything else. Really friendly, and great service. They called me when it was finished and were very flexible with picking it up.
Extremely helpful service and even wrapped up both gifts.
Tracey was so friendly and helpful fitting my new watchband. The store was filled with customers and she still provided immediate and great customer service. Thanks, Tracey!
I get all my watch straps shortened/adjusted here. They get it done fast and professionally, without any damage to the watch. They are really friendly and let me take my time to get a perfect fit. Haven't really done anything else in the store (jewelry related, etc.), so I can't comment about that. It's a beautiful store though!
Even though they could not do the work I wanted, they were very helpful in solving my problem.
Stopped by to get my rings cleaned and I thought I would have to leave them and pick up the next day. I had my 6 year old daughter with me and I was looking for earrings for her birthday. I learned that they do piercings at the store and thankfully she said that they do both ears at the same time so it's not as scary. Needless to say my daughter is not so ready… but in a few minutes she said your rings are done. WOW….that was wonderful and then I went to pay and she just laughed and said no, no charge. If I could I would get one of everything in there for my daughter… but at least we will be back for the ears… when she is ready! Thank you for such a great experience.
Reviews from Yelp
I adore every person in this shop. Since he proposed, I've dropped by a lot to get the ring cleaned and window shop. They remembered everything I said I liked and helped my husband surprise me with a gift over the summer. They even allowed us to put my wedding band on "layaway" and make payments.

But here's the best reason to deal with a family-owned, local business. 2 weeks before the wedding, I lost his wedding ring. Gone. Vanished. I went to the Jewel Box almost in tears because we were on such a limited budget I couldn't afford the same ring. These amazing people talked me off the ledge, ordered a duplicate ring AT COST, and told me they'd refund my money when I found the original. And when I found it, 24 hours before the wedding?? They were almost as happy for me as I was!!

There is nothing like walking into a local business and knowing it's not all about the money. We recently referred a friend who was looking for a very specific engagement ring. He presented to the Jewel Box staff a quote he'd gotten from his intended's close family friend. The staff told him honestly what they could do, then ended by saying "the goal is for you to get the best ring at the best price." He was so impressed that their sole goal was for him to get the best value.

That sums up the Jewel Box. They're fairly-priced, they are a local business, and they're honest. I have a million great things to say about them but I'll leave it with this–they're now my "family" jeweler. I won't shop anywhere else.
Just wanted to update my earlier experiences. Recently, my mom lost the diamond on her wedding ring.  She was crushed and didn't think she could afford to replace it.  The staff at Jewel Box (Michelle, in particular) assured us it could be done.  They worked with me to replace the setting and diamond and make the ring even better than before at a ridiculously reasonable price.  She was so surprised and so happy to get it back from them (earlier than promised).  Moments like that just don't happen at the large chains.
I'd give the Jewel Box 6 stars if I could!! It's everything I love about family-owned businesses. Michelle knows my fiancé and I by name, and has helped him pick out some awesome pieces of jewelry over the last year we've been customers.  I value the advice, knowledge, and the friendly atmosphere I am greeted with every time I visit. Which is often (gotta keep the e-ring sparkly!). I'm so glad we found the Jewel Box and I look forward to being customers for a long, long time.
I had some jewelry that had not been cleaned for a very long time and I took in to The Jewel Box to see if they could clean everything up and make it look decent. The staff there made my jewelry look brand new!!! They are so awesome and the service was amazing. Friendly, knowledgeable and timely. They had my jewelry done when they said it would be done and the
The staff gave me so much information and told me everything they could about the earrings I brought in.  I was totally impressed with the knowledge, professionalism and the friendly atmosphere.  The kind of place you would continue shopping for jewelry at for many years.  Thanks for the experience!
I had a terrific experience.  The staff was friendly, knowledgeable and more than patient with all my questions.  I was looking for an anniversary ring for my wife.  They were pleasant and accommodating to what I wanted and within my budget.  They were very helpful and I never felt like I was being pressured to buy something I didn't want. I am very pleased with the beauty and quality of the ring I purchased.  I'm sure my wife will be too.
We bought my engagement and both wedding rings here about 2 years ago and have had nothing but the BEST service always. Whenever I want something repaired or made into something else, they have great suggestions and are very fair in their pricing. Nothing but excellent service, beautiful jewelry, and fabulous staff.
I love this store and the people who work there. Everyone is very helpful and nice and the selection of rings is beautiful, especially for men's wedding bands. They really went out of their way to be helpful and even remained late one night since I worked near closing time.
I have been buying and repairing my jewelry with the Jewel Box since they opened their doors.  I have also referred all of my friends and their relatives from near and far to the Jewel Box.  They have the best quality of jewels and service.  I am very pleased with my experience and will continue to recommend people to them over and over again. The team at the Jewel Box is outstanding.  Thank you again for giving me and my friends and family such a fabulous experience.  You are truly the BEST!!!!
I've been a client for years. Tracey and the staff always treat me like family. They have a great selection and will work to find you something magical that fits in your budget. They never try to sell something you don't like. They take the time to get to know you and what you like and then help you select something amazing. They are the only place for me. You will feel like a prince or princess when you shop at the Jewel Box . You can trust Tracey and her staff they are Honest, Trustworthy and Amazing people who truly care about you and your needs. When you want experience and quality without the high pressure sales practices you go to the jewel box well worth the drive the only place to go is the Jewel Box.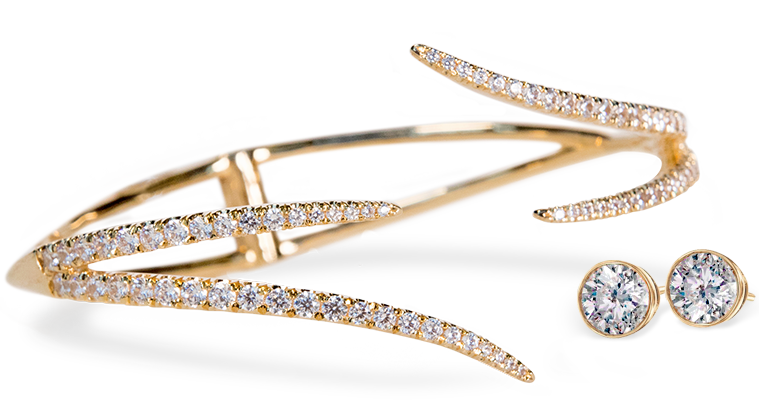 Want ready to wear diamonds?
VISIT THE STORE
Jewel Box Morgan Hill
17190 Monterey St. Suite 101
Morgan Hill, California 95037
PHONE 408-776-9444
Closed Monday
10am-6pm – Tuesday
10am-6pm – Wednesday
10am-7pm – Thursday
10am-6pm – Friday
10am-5pm – Saturday
Closed Sunday
PARKING – On street, behind store, or in the parking garage on 4th.