Gabriel & Co – Designer Jewelry in Morgan Hill
"As young apprentices to their father, master jeweler Elias Gabriel, they learned the exacting art and science of combining precious metals and stones to make a creation greater than either element alone. Committed to making their vision come true, the Gabriel brothers followed in their father's footsteps and formed Gabriel & Co. in 1989. With their carefully selected and talented team, they devoted themselves to the production of the finest quality jewelry and unparalleled service." – Gabriel & Co – New York
---
AMAVIDA by Gabriel & Co NY – Engagement Rings & Bands
Stunning Engagement Rings & Wedding Bands
Classic, Vintage, and Modern Ring Designs
Custom Engagement Ring Design
Choose from our Selection of Loose Diamonds & Gemstones
Explore AMAVIDA Engagement & Bridal – We have a extensive collection of AMAVIDA designs in our store and many options for special order, and custom design. Have a look at all the latest AMAVIDA designs here and call the store or pop by to let us know which are your favorites. You are welcome to Email Us with your questions.
---
Designer Necklaces – Fashion Jewelry by Gabriel & Co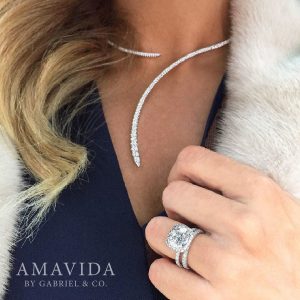 Elegant & on-trend necklace designs
Available in Yellow, White, and Rose Gold
Delicate to bold – vintage to modern
Perfect gift for a memorable time in her life
Click to Browse Gabriel & Co Necklace Designs – Necklaces add just the right touch to your look. Layer your look with multiple designs or make a statement with a single piece. Gabriel & Co continues to impress with elegant, timeless, and on-trend pieces that dress up any day. Call the store to see if we have your faves in stock – 408-776-9444. If not, we can easily order for you to see in person!
---
Fashion Rings by Gabriel & Co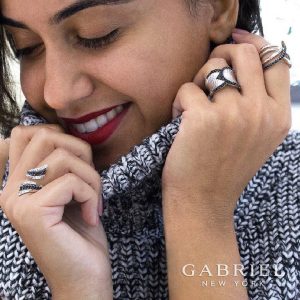 From classic lines to the latest in rings design
Diamonds and precious gems in a variety of fashion-forward styles
Bold pieces and delicate designs
Stackable rings to mix and match
Click to Browse all Gabriel & Co Fashion Rings – Our clients have fun with their fashion rings. Because Gabriel & Co offers such a variety of styles, sizes, and metals, we make it easy to find a ring to suit your every mood. Enjoy a different look every day when you stack your Gabriel rings and add colorful gems to the mix.Pop by the store and see what's new!
---
Designer Earrings by Gabriel & Co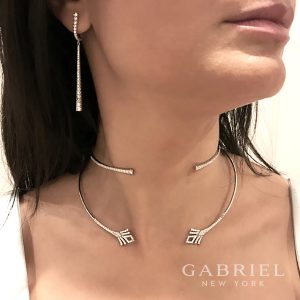 Beautiful stud earring designs, hoops, and dangling designs
Diamonds, pearls, and gemstones
Casual earrings for easy, everyday wear
Statement earrings designed to complement your little black dress
Click to View Gabriel & Co Earrings  – That perfect pair of earrings can change your whole day. From the tiniest of hoops and studs to the earrings that simply make you feel like a million bucks, Gabriel & Co is up to the task. Special orders are a breeze. Pop by to see what's in store!
---
Fashion Bracelets by Gabriel & Co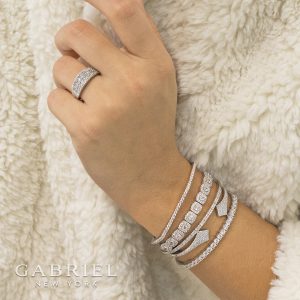 Classic line bracelets, bangles, and the latest in fashion
Diamonds and colored gems – yellow, white, and rose gold
Bold cuff designs and delicate bracelets
Bracelet designs that are easy to layer
Click to Shop Gabriel & Co Bracelet Designs – Sometimes you want that understated, extra touch of sparkle and other days you are ready to stack your wrist with enough bling to dazzle the world. From causal elegance to bold bracelets sure to strike up a conversation with fellow jeweler lovers, Gabriel & Co knows what's hot, on trend, and destined to become a classic. or pop in to see the latest at the store!
---
Build Your Own Stackable Ring Collection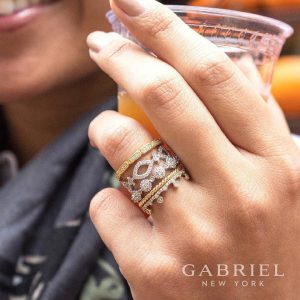 Play with ALL the stackable ring styles right here online
Build your own personal stack of rings and see how they look together
See the latest stackable ring designs
Plan your collection and know which rings you want to order
Click to See Inspired Stackables – We all have had a late night or two browsing jewelry online. Gabriel & Co comes up with great looks! Browse the gallery and then let us know what you like. If we need to order the rings in your size or metal choice, we can easily do that! Start your own tradition and stack your rings to you heart's delight! Give us a call at 408-776-9444 or drop by the store.
---