Reviews from Facebook
They were very friendly, fair and knowledgeable. They have great jewelry to choose from, I have my eye on a couple of pieces. Will be going back. Thank you for great service.
Great service, quality work, friendly & knowledgeable staff made for a wonderful experience! I had several rings repaired as well as customizing my wedding set there. I recommend them for all your jewelry needs.
Reviews from Google
Staff is fantastic and selection is great.
Excellent place to have repairs done on your jewelry!
Recommended for jewelry repair. Lovely store with beautiful jewelry. Left my wedding ring for repair as the diamond fell out. My ring received a very thorough exam as well as several suggestions as to the best outcome going forward.
Reviews from Yelp
Needed watch battery. In and out, fair price, nice lady.  Lock front door with buzzer entrance I could understand there is a lot of nice jewelry here.  Clean, good location (kinda hard to see in office building).  Everything else checks out and pleasant customer service gets them 5 stars!
This is the only place to get your special something for your wife. Tracey is so patient and took the time to go over all the rings my wife wanted. She made our anniversary extra special and every time i see my wife hands and the beautiful ring i thank Tracey and the jewel box. She loves her ring!!!
The staff at this store could not be more helpful and friendly.  They really do go above and beyond in providing excellent customer service.  Their selection of jewelry is the best around and if they don't have it – they will try and get it for you.  The personal service they provide and the quality of their merchandise make them the "jewel" in Morgan Hill.
I highly recommend this place! We did not buy our engagement ring here, but they treat us like we did! We had gone in to get rings-sized (2 rings, 2 different trips).  Today we went back to see if they could tighten the prongs in my engagement ring because I had a loose diamond. The jeweler behind the window=amazing. (Joe? I think.) He's quick and friendly! He tightened the prongs right there on the spot. We then went to pay, and they wouldn't let us. They said, "It's no big deal. Have a great day!" I mean, it took him 2 minutes, but they didn't have to do it without charge. The girl that's helped us most times in there, (young, brunette) is always VERY friendly– and knows her stuff! (and even remembered us immediately!) We would definitely go back AND refer anyone there! Great business!
Loving the service.  Always friendly and helpful every time I am in there. I stop in often to have my rings cleaned and to check out their new merchandise.  I don't always buy when I am there, but it doesn't matter – they always offer to clean and check my rings and send me on my way a happy, and sparkling, girl!  So nice to have a high quality, full service jewelry store in downtown Morgan Hill.
Super people and great service. You won't find a more friendlier, knowledgeable, staff anywhere. I would recommend this place to all. Yes, they are as good as it gets!
I tried this place on a whim to see if they do jewelry appraisals, walked in, and good news….they do appraisals! I can't tell you how great the service was that I received. I had 3 people assisting me, making me feel great (even though I know nothing about jewelry). They explained everything (even had a jeweler on-site come out and view my engagement ring) and quickly realized that the "hand me down ring" needed to be refurbished to keep the diamonds secure. They let me look at the crown through the magnifying eye piece to show me the problem areas. I'm so happy I stumbled through their door before losing any part of my special ring! I'm recommending them to EVERYONE!
I love them! Everyone there has been so great and helpful in finalizing my wedding jewelry, from my vintage style engagement ring, to the custom diamond necklace Michelle helped me design. Tracy, Miranda, Michelle and Joe are all so friendly and helpful, they have made lifetime customers!
I had the most phenomenal experience at The Jewel Box. Tracey went above and beyond as she not only sized my girlfriend without her knowing, but she even helped me brain storm on ways to ask her. Tracey has a knack for what looks good and staying within a budget. I would highly recommend anyone to stop on here for their rings, because you go in a client, but you leave with new friends who have a vested interest in your future! Sincere staff, professional and helpful, made my experience a lot of fun too.
My wife and I came here to upgrade our wedding rings. We couldn't afford a nice set when we tied the knot 13 years ago. Miranda was very knowledgeable and friendly, and gave us a great deal on our trade in and new set.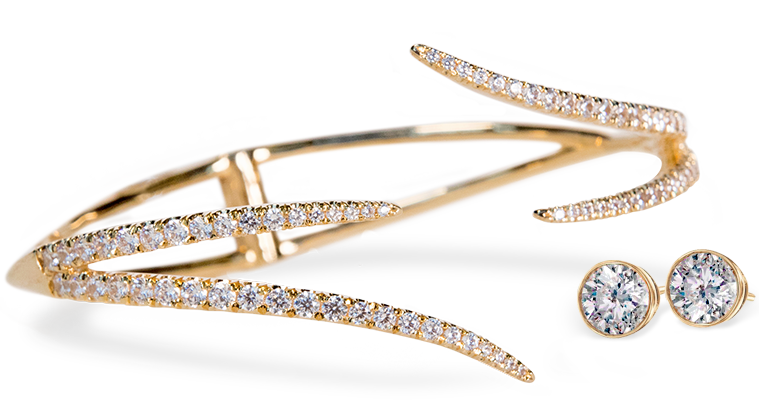 Want ready to wear diamonds?
VISIT THE STORE
Jewel Box Morgan Hill
17190 Monterey St. Suite 101
Morgan Hill, California 95037
PHONE 408-776-9444
Closed Monday
10am-6pm – Tuesday
10am-6pm – Wednesday
10am-7pm – Thursday
10am-6pm – Friday
10am-5pm – Saturday
Closed Sunday
PARKING – On street, behind store, or in the parking garage on 4th.