Sell, Trade, Consign Gently Loved Jewelry
We have a case of Estate Jewelry that's always changing. It's chock full of consignment pieces and vintage designs. Make sure to have a look each time you visit the store!
SELL – Have old jewelry, numismatic coins, or other precious metal objects stashed in a drawer? Now is a great time to sell them. Or…
TRADE – While we pay the highest prices in the area for your gold, some jewelry-loving clients prefer to take payment in trade. Why? When you trade-in old jewelry for new goods or services, you receive higher compensation. It's a great way to get great value out of old pieces and reduce your out-of-pocket cost on new designs at the store.
CONSIGN – For an even greater return, especially on jewelry items with large, high-quality center stones, consider consigning your pieces. We will clean, polish, prepare your jewelry for sale, and place it in our case. Hundreds of clients pass through our store every week and you never know who might be in the market for the exact piece you are looking to sell. Let's have a look at what you have and we will explain how it all works.
FREQUENT FAVES ON SOCIAL
Want to sell your gold or precious metal? Click Here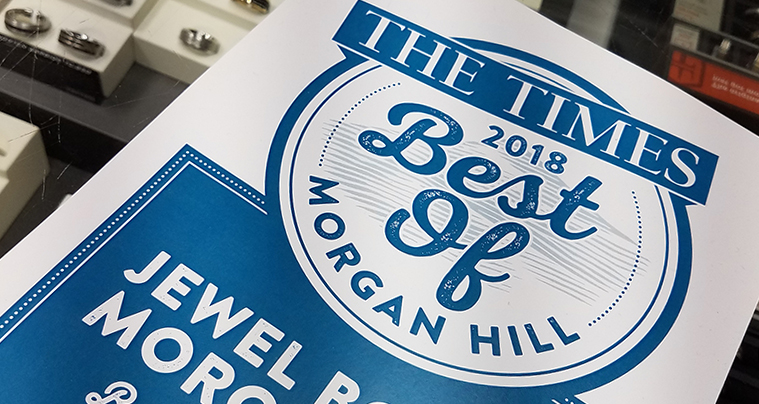 Thank you for voting us #1 again.
One of our best secrets… our consignment case! You never know what you'll find. Vintage and contemporary Tiffany pieces to quintessential David Yurman… we've seen it all.
PEOPLE ARE TALKING
I had to bring my white gold engagement ring in to have it re-dipped (rhodium). MY RING LOOKS BRAND NEW ! they did an amazing job!!!! Staff was great & the turnaround time was 1 day. I will be returning for all repairs & purchases.
Thank you !!
– Julia S – Morgan Hill, CA – Via Yelp

Very clean and professional looking store. Miranda helped me with adjusting my watch band. She was very courteous, kind, and knowledgeable. I was very pleased with my visit and will be back next time I need an adjustment or to buy a stone.
– Z B – Morgan Hill, CA – Via Yelp

Today we went back to see if they could tighten the prongs in my engagement ring because I had a loose diamond. The jeweler behind the window=amazing. The girl that's helped us most times in there is always VERY friendly — and knows her stuff! (and even remembered us immediately!)
– M N – Gilroy, CA – Via Yelp

So friendly and helpful fitting my new watchband. The store was filled with customers and she still provided immediate and great customer service.
– Paula – 5 Stars via Google

Here's the best reason to deal with a family-owned, local business. 2 weeks before the wedding, I lost his wedding ring. Gone. Vanished. I went to the Jewel Box almost in tears because we were on such a limited budget I couldn't afford the same ring. These amazing people talked me off the ledge, ordered a duplicate ring AT COST, and told me they'd refund my money when I found the original. And when I found it, 24 hours before the wedding?? They were almost as happy for me as I was!!
– Cody – 5 Stars on WeddingWire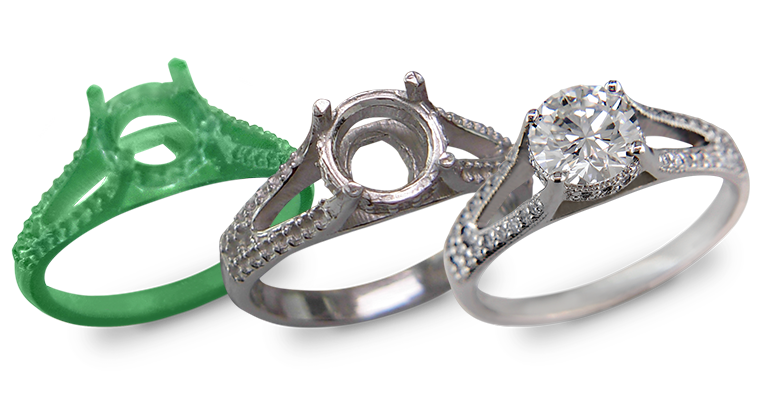 Did you know we do custom?
VISIT THE STORE
Jewel Box Morgan Hill
17190 Monterey St. Suite 101
Morgan Hill, California 95037
PHONE 408-776-9444
Closed Monday
10am-6pm – Tuesday
10am-6pm – Wednesday
10am-7pm – Thursday
10am-6pm – Friday
10am-5pm – Saturday
Closed Sunday
PARKING – On street, behind store, or in the parking garage on 4th.