Now you can View ALL our Amavida Bridal – Engagement & Wedding Ring Designs ONLINE! Amavida is a wonderful design line featuring both Contemporary and Victorian styles. Select the styles that that make you smile and try them on at our store at your convenience.
At Jewel Box Morgan Hill, we believe shopping for an engagement ring is best when it's easy and fun. With Amavida Bridal you have the best of online and in-store shopping. And when you decide upon the the ring you love, simply choose the center-stone that works best for you. It's that simple.
Browse Amavida Engagement Rings Online
It may be 3am and you're in your jammies… perhaps you are on your lunch break… or it's the weekend and you are curled up in the comfy chair with your iPad… wherever you are and whatever time it is you are able to browse the best in today's NEW Amavida engagement ring designs.
When you find a ring you love, message us right from that ring's page and we will set up a time for you to come in and see the design in person and try it on! It's so much fun and SO easy!
Jewel Box of Morgan Hill
17190 Monterey Street – Suite 101
Morgan Hill, California 95037
Call 408-776-9444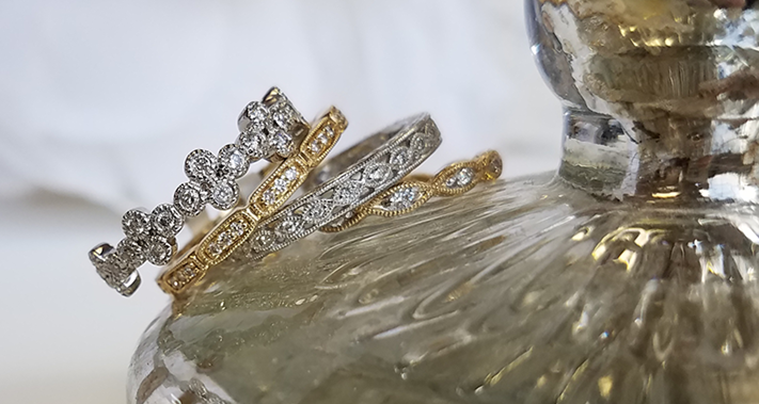 PEOPLE ARE TALKING
We bought my engagement and both wedding rings here about 2 years ago and have had nothing but the BEST service always..
– Victoria B – Morgan Hill, CA – Via Yelp

They're fairly-priced, they are a local business, and they're honest. I have a million great things to say about them but I'll leave it with this–they're now my "family" jeweler. I won't shop anywhere else.
– Cody – 5 Stars on WeddingWire

I love them! Everyone there has been so great and helpful in finalizing my wedding jewelry, from my vintage style engagement ring, to the custom diamond necklace Michelle helped me design. All so friendly and helpful, they have made lifetime customers!
– Alison M – Morgan Hill, CA – Via Yelp