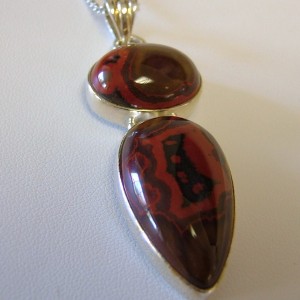 From deposits in Germany, India, France, Russia and South Africa, to the "back-yard mines" here in little ole Morgan Hill. It's pretty cool that we are on the map for this wonderful stone.
Poppy Jasper is on Shaky Ground
There are different types of Jasper and the variety of Poppy Jasper found in our area is a "brecciated jasper." What the heck does THAT mean? Great question! Well, "breccia" is a rock made up of sharp fragments embedded in clay and sand. Poppy Jasper is often found in areas with seismic and tectonic activity. Sound like any place we know? As this type of jasper forms, there are tiny cracks and fissures that open in the stone and then fill-in again over time with indigenous materials. As the stone repeats this process, it shatters and "heals-through" many times over, lending to the crackled and speckled look often associated with the stone.
The red colors prized by Poppy Jasper collectors are often a result of red hematite crystals embedded in the rock. It is also thought that iron-rich clay impacts the coloration. From deep reds and vibrant orange tones, to golden hues and earthen greens, Poppy Jasper is always a visual delight! Unfortunately these days most of the local Poppy Jasper found on is on private property, leaving rock-hounds and local enthusiasts alike, increasingly frustrated by the lack of access to new specimins.
Monster Eyes & Bright Stars Shine in Morgan Hill Jasper
Poppy Jasper, the type of Jasper found in our area, is so named because of natural formations within the stone that have the appearance of Poppy Blossoms. Sometimes folks use the term "Leopard Jasper" when referencing Poppy Jasper because occasionally the grey, green and brown tones (of what I think of as Leopard Jasper), are often right next to the deep "clay and claret" colors of the more traditional Poppy version.
In some of the more "high-contrast" pieces I have seen, kids will think the crystalline structures look like little "monster eyes," drops of white paint or bright stars against the often dark red-toned background. Gotta love kids and their imaginations!
Custom Jewelry and Ready to Wear Poppy Jasper
If you have not seen Poppy Jasper in person, I invite you to pop by our store in downtown Morgan Hill. We have a variety of ready-to-wear designs and regularly craft custom designs for our clients; pairing Poppy Jasper with Sterling Silver, Gold and even Platinum. With the vast variety in colors found in each piece of polished Poppy Jasper, it is really a jewelry designers dream. You can introduce so many wonderful complementary colors to the palette and draw out so many delicious subtleties!
The Shades of Morgan Hill Poppy Jasper
Imagine pairing these pieces of poppy jasper (above) with moss-green diamond or lime-green peridot, the rich amber hues of citrine or spessartite garnet, the warm brown tones of chocolate diamond or the deep claret-red spectrum of traditional garnet! Oh SO yummy!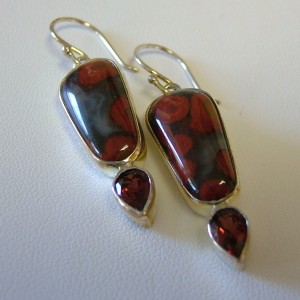 Poppy Jasper is a great alternative for traditional "red jewelry" associated with Valentine's Day… Which reminds me, need a gift? Valentine's Day is right around the corner!
Jewel Box of Morgan Hill
17190 Monterey Street – Suite 101
Morgan Hill, California 95037
Call 408-776-9444
Visit us on Facebook
Jewelry Repair | Watch Repair | Engagement Rings | We Buy Gold
Visit our Home Page to find out more!
A Special Thank You to Ron Wolf.  His beautiful close-up is shown as the "featured image" for this post. Stunning! Thank you too to "Rock God" in Lawrence, KS, Captain Tenneal, and photographer Bill Atkinson. And to all you dedicated rock-hounds out there in Morgan Hill… Stick with it!  There's still Poppy Jasper in them thar hills! We will continue to share additional samples as they become available and credit folks wherever possible. Please explore the links to their sites!