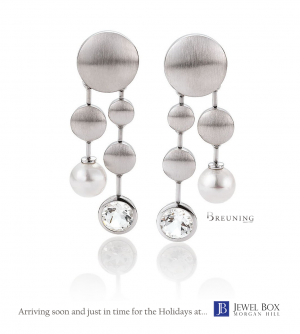 They're here! Oh goodness, we have been awaiting the arrival of these stunning pieces from Germany and they JUST arrived!
We have some wonderful new designs from BreuningUS at the store and Special Holiday Shopping Hours through Christmas Eve. Come see for yourself!
About Breuning Jewelry
Breuning is renowned for innovative and modern design as well as the best quality in both form and execution. The Breuning USA brand has a unique advantage due to the use of the latest in computer aided jewelry design, and metal casting and finishing technology. Their entire production process is cutting edge, and the designs show it!
We are so excited to now carry this exquisite line at our store and look forward to having you see for yourself! In the meantime, here are a few of the designs we have posted on our Facebook Fan Page: