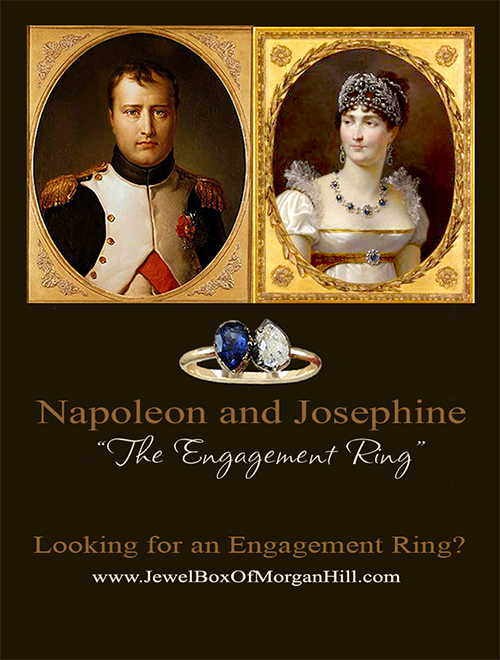 Did you hear that the engagement ring Napoleon gave to Josephine in 1776 was recently sold at auction for nearly fifty times the $20,000 anticipated sale estimate? Well, I'm here to tell you, it did! The rather understated Diamond and Sapphire ring sold for close to a million dollars to an anonymous buyer. Ok, $949,000 to be exact.
The Beginning of the Romance with Josephine
When Napoleon met the wealthy and fashionable Josephine, he was six years her junior. Her husband had met his fate at the guillotine for supporting the French Revolution. The love affair began on a chance meeting regarding her late husband's sword. Her oldest son had requested of Napoleon, that he be allowed to keep his father's sword. Napoleon agreed. When Josephine thanked Napoleon in person, for the kindness, Napoleon fell hard and fast!
Bidding was Fierce for the Napoleon Ring
With 300 people bidding at the auction and another fifty or so calling in, the interest and bidding was impassioned. Emily Villane, of the French auction house Osenat, told ABC News, "In my wildest dreams, I did not think we would outsell the estimate by more than 47 times." They even had to set up additional phone lines and hire additional staff to accommodate the bidding. She went on to say, "We based the estimates in our catalog on the actual market value of the ring, minus Napoleon and Josephine provenance. It is not our job to tell bidders how much they should pay for the historical premium." And pay they did!
What's All the Fuss About Josephine's Ring
Good question! It's very understated, and quite beautiful in its simplicity and symbolism. The engagement ring, in gold, is in an 18th century setting called, "toi et moi" in French. This "You and Me" design is set with pear-shaped gems. In Napoleon's case, he chose blue sapphire and diamond.
When Napoleon gave this ring to Josephine, he was a young officer. As many men do today, he likely spent a tidy sum to fetch this prize for his beloved. Each of the two stones is little less than a carat. The ring's wonderful quality demonstrates Napoleon's intense love.
Carry on French Tradition & Passion in Your Engagement or Anniversary Ring
Today, a 14K yellow gold mounting, with a 1ct pear shape sapphire grade AA, and a 1ct VS2/G grade diamond pear shape (8mm x  5mm) can be made for right around $10,000… And at the Jewel Box of Morgan Hill, WE can do it for you! Keep in mind that stone weight may fluctuate because the MOST important thing is that the gems match visually!
It's pretty amazing that underneath Napoleon's uniform beat the heart of such a romantic soul. Napoleon Bonaparte's love letters to Josephine are the stuff of romance and an inspiration even today!
I wake filled with thoughts of you. Your portrait and the intoxicating evening which we spent yesterday have left my senses in turmoil. Sweet, incomparable Josephine, what a strange effect you have on my heart!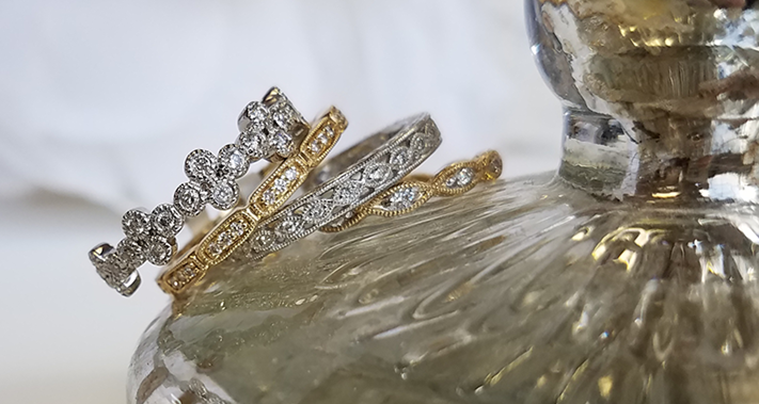 PEOPLE ARE TALKING
We bought my engagement and both wedding rings here about 2 years ago and have had nothing but the BEST service always..
– Victoria B – Morgan Hill, CA – Via Yelp

They're fairly-priced, they are a local business, and they're honest. I have a million great things to say about them but I'll leave it with this–they're now my "family" jeweler. I won't shop anywhere else.
– Cody – 5 Stars on WeddingWire

I love them! Everyone there has been so great and helpful in finalizing my wedding jewelry, from my vintage style engagement ring, to the custom diamond necklace Michelle helped me design. All so friendly and helpful, they have made lifetime customers!
– Alison M – Morgan Hill, CA – Via Yelp
Did you Know…
Napoleon reportedly sent thousands of letters to Josephine, during their courtship and throughout their marriage as well. Now that's love!
Jewel Box of Morgan Hill
17190 Monterey Street – Suite 101
Morgan Hill, California 95037
Call 408-776-9444