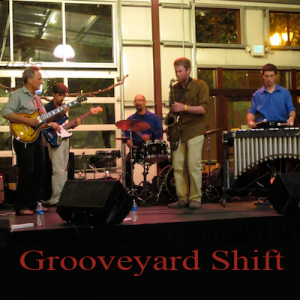 Ok, wow! These guys have it… In Spades!  We are SO fortunate to have Grooveyard Shift for an in-store performance during the Morgan Hill Spring Wine Stroll on Saturday, April 27th. I had the pleasure of seeing them in person at Art Boutiki in San Jose and they're great!
Seriously… a Vibraphone? You bet! It totally rounds out their sound and sets their mix apart from area Jazz/Funk bands. This band is a MUST SEE for everyone in Morgan Hill!
Fresh, Hip Mix of Jazz and Funk
San Jose based Grooveyard Shift is a find among South Bay bands and they certainly offer a fresh and fascinating addition to the Bay Area music scene. Ok, back to that vibraphone for a second… it gives Grooveyard Shift an ultra-smooth sound and fluctuates easily in purpose from song to song;  floating above the action in a lyrical line or dropping beneath the groove to lay a solid foundation for the other musicians to strut their stuff.
Grooveyard Shift offers up in a mix of original tunes as well as the occasional cover in styles from straight-ahead Jazz, to Funk and Brazilian Jazz, to old-school RnB. The driving rhythms, compelling sax and sweet guitar solos will have you bobbing your head and moving your feet before you know what hit you.
I suspect you will soon have a new local-band favorite! I'll even go so far as to say a new favorite band Period. Local or otherwise! Come by on the day of the Spring Wine Stroll from 1pm to 4pm and check them out!
Top 5 Players in Grooveyard Shift
In no particular order, here's the Grooveyard Shift lineup:
Madison Bohrer – Tenor Sax
Sweeney Schragg – Guitar
Dustin Vado – Bass
Chris Haskett – Drums
Dillon Vado – Vibraphone
The heart of Grooveyard Shift is made up of these five guys. I love that they have some regulars who sit in and morph the style into other exciting directions. It is a testament to their tightness and skill as a band; they are flexible enough accommodate jazz, rap and other musical talents who drop through… That says it all. Wow, what magic they make!
Where is the Music for the Morgan Hill Wine Stroll?
We've got you covered!
Stop by Jewel Box of Morgan Hill anytime 1-4pm on Saturday, April 27, 2013 and check out Grooveyard Shift out for yourself! You'll be VERY glad you did.
In the meantime, here are a couple links to their videos on YouTube… Enjoy!
WATCH Grooveyard Shift on Youtube – "Economic Collapso"
WATCH Grooveyard Shift on Youtube – "Dewey Decimal Breakdown"
See you on Saturday, April 27th!

Buy 2013 Spring Wine Stroll Tickets at our store while they last!
Jewel Box of Morgan Hill
17190 Monterey Street – Suite 101
Morgan Hill, California 95037
Call 408-776-9444
Visit us on Facebook
Jewelry Repair | Watch Repair | Engagement Rings | We Buy Gold
Visit our Home Page to find out more!