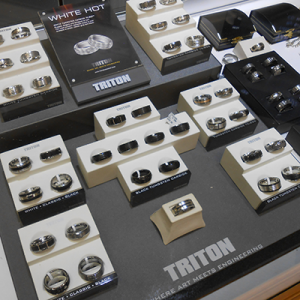 Triton makes so many great designs in men's wedding rings! They specialize in contemporary metals and offer styles that range from classic elegance to the urban edge. This makes the toughest thing about the process of buying your ring… Deciding which one you like best!
At Jewel Box of Morgan Hill, we offer wide variety of wedding designs for men and can even "special-order" upon request.
Stop by our store and take a look for yourself!
Triton Offers Many Men's Wedding Band Styles
Men's Wedding Bands in Contemporary Metals
In recent years, there has been in influx in new metals into the world of mens wedding rings. It used to be that white and yellow gold, or platinum were your choices. Today, men have a wide selection of metals that accommodate their increasingly active and rugged lifestyles. Here are some of the most popular:
Tungsten Carbide
Titanium
Black Titanium
Stainless Steel
Titanium and Stainless Steel Wedding Bands
TITANIUM – "Sleek. Timeless. Cool. Titanium is often referred to as the "space age metal" for its low density, strong, lustrous, corrosion-resistant surface, and rich grey coloring. As strong as some steels, but 45% lighter in weight, titanium possesses the highest strength-to-weight ratio of any metal."
STAINLESS STEEL – "Rugged and refined, stainless steel is one of the most popular metals used in jewelry and watch-making today. Its familiar luster and stain resistant properties make it an easy, low maintenance choice that looks great and will last for years. Triton jewelry features the highest quality stainless steel, 316L, which does not rust and has increased resistance to corrosion."
Tungsten Carbide Wedding Rings for Men
TUNGSTEN CARBIDE – "This specially engineered, exclusively patented metal formulation is a unique blend of tungsten and carbon that creates a material that's one of the hardest materials used in jewelry. In fact, Tungsten Carbide TC.850TM is ten times harder than gold.
As one of the most popular choices for men's wedding bands (second only to Gold), Tungsten Carbide is hypoallergenic and known for being the most scratch-resistant metal choice, ensuring your ring will retain its natural color and alluring luster for as long as you own it. The superior formulation TC850 is the originally patented formulation and only available at authorized retailers…" like Jewel Box of Morgan Hill.
Shop Triton Wedding Band Styles
Triton wedding designs for men are Bold, Strong and Masculine! From steely grey to fierce black Triton features sleek modern influences in styles that span just about every preference. Triton – Where Art Meets Engineering!
Jewel Box of Morgan Hill
17190 Monterey Street – Suite 101
Morgan Hill, California 95037
Call 408-776-9444
Visit us on Facebook
Jewelry Repair | Watch Repair | Engagement Rings | We Buy Gold
Visit our Home Page to find out more!
A special thank you to Triton for use of photos and quotes for this post. We invite you to view more of their designs at the Triton Jewelry Website.