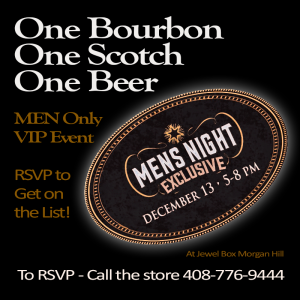 We're having a Special VIP Event

For hard-working men in the Morgan Hill area!
One Bourbon – One Scotch – One Beer 
That means YOU and your buddies who live in the Morgan Hill, San Martin, Gilroy, Hollister, and Watsonville area are invited! Make sure to RSVP.
Yep, you'll need to RSVP and we'll tell you why… It's Free. We'll have tasty bites, grilled meats, desserts, spirits, and beer. Plus, you'll save big bucks if you buy a gift – just ask to see her "Wish List." All that, AND it's going to be a great night with the guys. There you have it!
..
ONE Bourbon – ONE Scotch – ONE Beer
Wednesday, December 13th – 5-8 pm
Jewel Box Morgan Hill
7190 Monterey Street – Suite 101
Morgan Hill, California
It's going to be the perfect after-work, Happy Hour! Come for the exclusive tasting experience including spirits and unique craft beers. And for those who like a great cigar – we have you covered too. We can't give away all the secrets, however, we can tell you… This is going to be a great event!
.
This Men's Only night is in honor of all YOU do. It's our way of showing you just how much we appreciate you. Enjoy some tasty bites, hot off the grill and desserts that'll have you circling back for more!
We love that so many great guys make Jewel Box Morgan Hill a part of their Christmas and Holiday gift-giving tradition. Maybe it's your girlfriend or fiancee. Maybe your wife or daughter. Mom or niece. Maybe it's that sister of yours who needs a little bling and you are just the guy to make it happen! Thank you for trusting us and knowing that our jewelry makes her smile!
Whether  you've been bringing home that Little Black Box from Jewel Box Morgan Hill for years, are completely new to our store, or have only stopped by to get battery for your watch – All men are welcome! Come on out and enjoy one – On Us!
RSVP Required for Entry – Make sure to get on the List!
Call the store at (408) 776-9444 and ask us to put you on the list
Do I Really Need to RSVP?
Sure do. We need your help to get a head count. It's that simple.
We need to know how much meat to throw on the grill, how many Bourbon, Scotch, and Beer tastings we'll need to have on hand, and we need to make sure to have enough dessert treats to satisfy your sweet tooth.
So, when you know you can make it… Your RSVP would make all the gals at the Jewel Box Morgan Hill very happy!
Just call the store at (408) 776-9444 and we'll put you on the list!
Sorry Ladies, This One is Just for the Guys
Ladies, we had our Ladies VIP event last month and THIS one is for the guys. If you have a Wish List on file with us, make sure to tell your guys about this One Night Only Special VIP Event! We will make sure that your significant other knows which items will put a SMILE on your face.  Still need to fill out a Wish List? Easy! Just pop by any time before Wednesday, 13th and fill one out. This way, when he asks what you have your eye on… we can tell him!
Special Event-Only pricing – All guys who attend receive $250 off a purchase of $750 or more.*
RSVP Early!
This is a FREE event. If you still need a gift, the store will be STOCKED with great gifts and we'll event gift wrap it for free. Need to hide your gift at the store so she doesn't know for sure about the Little Black Box? We can do that too!
When a special woman smiles after opening a gift from You – That's the stuff of a great life!
To RSVP, call the store at (408) 776-9444 and ask us to put you on the list.

Remember, at the event you'll get $250 off a purchase of $750 or more.
*One per customer. Not to be combined with other offers. No cash value. Good through 12-24-17.
#mensnight #guysnightout 
#morganhill
  #beherhero #bourbontasting #scotchtasting