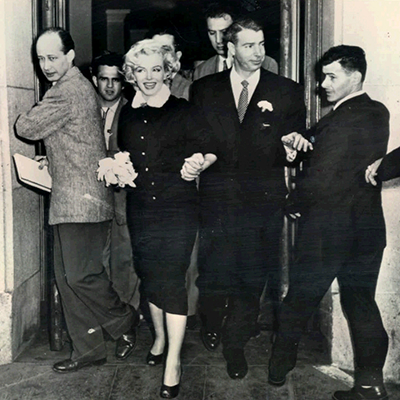 It's Tracey, owner of Jewel Box of Morgan Hill and we're starting a new blog series: Famous Women, Their Jewelry and the Men Who Bought if for Them!
Each post will focus on a particular celebrity or otherwise famous woman and will end with the answer to this question: If they walked into the Jewel Box of Morgan Hill TODAY… What would we suggest?
So, our FIRST famous woman… Marilyn Monroe!
Marilyn Monroe, Joe DiMaggio & the Diamond Wedding Ring
Here's what we know. Marilyn Monroe and Joe DiMaggio married on January 14, 1954 in Judge Charles S. Perry's chambers at San Francisco City Hall. When asked where they would spend their honeymoon, Joe reportedly said that while he did not know where, tonight they would "probably just get in the car and go."
Marilyn's wedding ring from Joe was a platinum and emerald cut (some say baguette cut) diamond eternity band that included 35 diamonds.
If Joe DiMaggio Walked into Our Store Today
If Joe DiMaggio walked into the Jewel Box of Morgan Hill today looking for a wedding ring for Marilyn Monroe, I would suggest a stunning modern take on Marilyn's classic and iconic ring. Tacori Style #5007BG (image shown below) is the perfect choice! Available in either Gold or Platinum, it features a whopping total diamond weight of 4.15 carats, and is currently priced  from $21,490.oo to $23,160.00. More important, it fits her classically elegant look and makes a statement in the process.
Who Would Your Like to See Featured?
Stay tuned for more in this series. And if you have an idea about a Famous Woman YOU would like to see featured, Email Us we would love to know!
Jewel Box of Morgan Hill
17190 Monterey Street – Suite 101
Morgan Hill, California 95037
Call 408-776-9444
Visit us on Facebook
Jewelry Repair | Watch Repair | Engagement Rings | We Buy Gold
Visit our Home Page to find out more!
A special thank you to Mears Monthly Auction for use of the picture outside the courthouse.