Amavida Engagement Rings II
Each Amavida engagement ring is a work of art. The scope of the Amavida collection by Gabriel NY, ranges from contemporary micro-pave to hand-engraved antique-style designs. Each and every ring is created with the finest hand-cut diamonds and sparkles from every angle.
Come by the store and try on a few of your favorites!
PEOPLE ARE TALKING
I had the most phenomenal experience at The Jewel Box. Tracey went above and beyond as she not only sized my girlfriend without her knowing, but she even helped me brain storm on ways to ask her. Tracey has a knack for what looks good and staying within a budget. I would highly recommend anyone to stop on here for their rings, because you go in a client, but you leave with new friends who have a vested interest in your future! Sincere staff, professional and helpful, made my experience a lot of fun too.
– Mike M – Long Beach, CA – Via Yelp

I am very happy with my experience with the Jewel Box. Miranda has been so helpful with my husband buying a necklace and a ring as well for me. She knows what I like and helps my husband. A husband's dream to go in to a jewelry store and know what to buy. Sometimes I go in to just say hello when I'm downtown and get a free ring cleaning without even having to ask! Excellent service and excellent jewelry!
– Laura G – Lakeport, CA – Via Yelp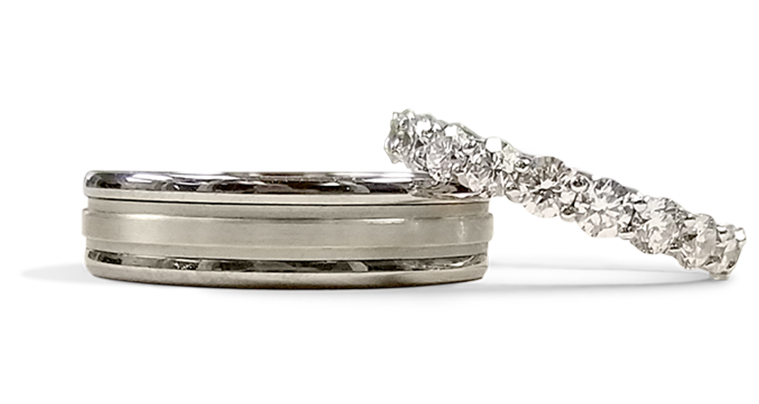 Wedding & Anniversary Bands…
VISIT THE STORE
Jewel Box Morgan Hill
17190 Monterey St. Suite 101
Morgan Hill, California 95037
PHONE 408-776-9444
Closed Monday
10am-6pm – Tuesday
10am-6pm – Wednesday
10am-7pm – Thursday
10am-6pm – Friday
10am-5pm – Saturday
Closed Sunday
PARKING – On street, behind store, or in the parking garage on 4th.