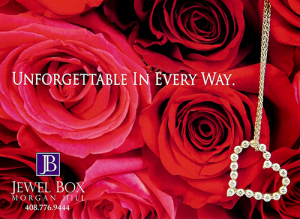 Looking for a special Valentine's Day Gift? Like to buy jewelry for yourself and others… Especially when you receive a discount? Wish you had one of our Special Valentine's Day Coupons? Well, here it is… Just for you!
Plenty of Valentine's Jewelry Gift Items
Jewel Box of Morgan Hill is here to make sure you put a BIG smile on his or her face this Valentine's Day. From Rings and bracelets, to necklaces and cufflinks… We have plenty of wonderful jewelry gift items from which to choose. From classic Valentine's gifts in traditional Ruby red to the understated "clay and claret" reds of Poppy Jasper (a local stone prized by area residents), we have designs that are ready-to-wrap and sure to please!
One of our favorite things to do is work with customers who walk in the door with that "dear in the headlights" look on their face. They KNOW they need to find the perfect gift… and have NO IDEA where to start! Has this ever happened to you? Well, it often happens with our clients… So you are in great company.
We love taking the time to find out about the person on the receiving end of the gift, and can easily steer you in the right direction. The real key is to find a piece (or pieces) they will both LOVE and WEAR!
Our Special Valentine's Day Discount Coupon
Take a look at this special discount coupon and then drop by the store to see what tickles your fancy!
We are located in the heart of Morgan Hill and have convenient hours.
You may call ahead for an appointment if you like, however, there is no appointment required.
We look forward to seeing you soon!