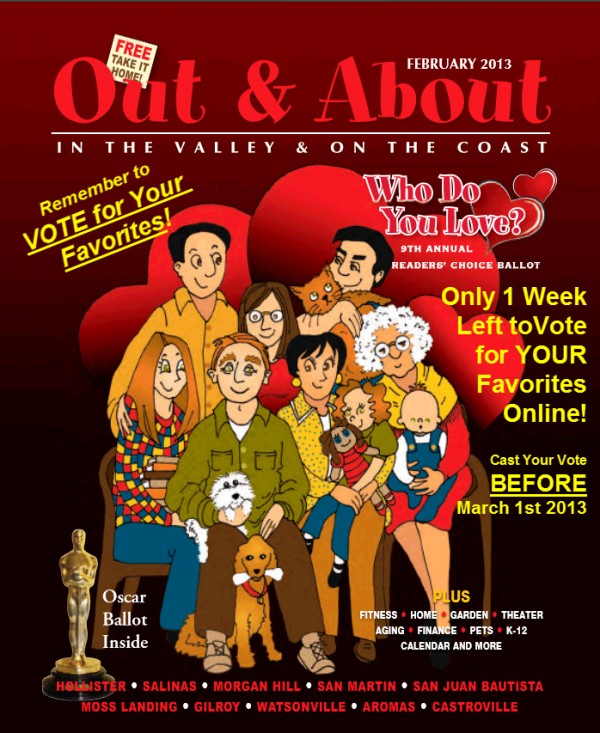 The 2013 Morgan Hill Readers Choice Ballot is in Out and About magazine. Vote for YOUR FAVORITES for ONE MORE WEEK! The deadline is coming up, so vote online…
BEFORE March 1st 2013!
It's VERY easy…
Click here to go to the Out & About Magazine website and SCROLL to the bottom… The blue link "Click here to take survey" takes you to a Survey Monkey Online Survey where you can vote for your favorite people, places to eat & shop… And your favorite Jewelry Store!
If you like, you can vote for Jewel Box Morgan Hill in 3 different places! See the images below. You will notice that there are several sections… Fill in only what you have time or a desire to do!
If you are so inspired, and we hope you are, you may vote for Jewel Box of Morgan Hill in the following sections:
2 places in section #5 Retail
1 place in section # 7 Local Services
Oh, and one more thing…
REMEMBER to Click DONE at the very bottom of the survey when you are finished!
Just so you know what to look for, here are some helpful photos:
Thank you SO much for taking your time to do this! It is wonderful publicity for all Morgan Hill businesses and provides us with valuable feedback about what works for YOU in our community!
Enjoy a Great Day!