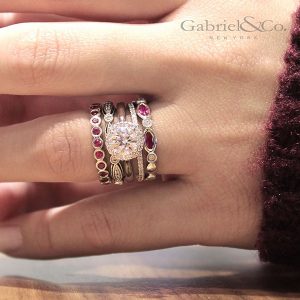 Stacking rings, nesting rings or "stackable" rings,… It's all about rings that work together to give you the exact look you want. Go ahead and start a tradition! They make a great gift.
Birthday Present
Anniversary Gift
Mother's Day Gift
Graduation Present
New Baby Push Present
Just Because I Love You
What makes the perfect stack of rings? Well, in this case "perfect" is in the eye of the wearer… and who knows your style better than you? Create your own unique stack from our latest designs. Mix and match rings to master that perfect combination to express your signature style.
Our stackable ring collection by Gabriel & Co. is chock full of color, texture and flair. From streamlined and modern to whimsical, vintage and more, your stack is sure to bring new life to your jewelry box!
Customize your personal stack for Mom with the family's birthstones or opt for something in diamonds that plays more with texture. Stackable rings make a great gift for any woman. Even if you are not certain of the exact ring size, I bet we can work something out… We can get pretty creative when it comes to getting you to the right size! To see the latest stacking rings stop by the Jewel Box of Morgan Hill.