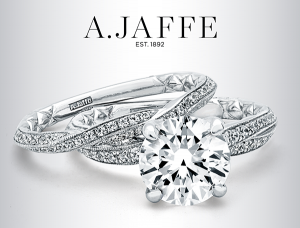 Here at Jewel Box Morgan Hill we are thrilled to showcase the latest in A. JAFFE Engagement Ring and Wedding Band Designs. Meticulously designed and masterfully crafted, each A. JAFFE engagement ring is customized to represent the woman who wears it.
From vintage to modern, antique to contemporary, A. JAFFE diamond engagement rings are designed to be admired from every angle. Many of the A. JAFFE designs are fitted with the signature "quilting" on the inside of the band. This makes for a more comfortable fit and allows the air to move in and under your bands. Come try them on and feel the difference it makes!
These are just a few of the Engagement and Wedding Ring designs available from A. JAFFE. Please visit Jewel Box of Morgan Hill to see the latest A. JAFFE Engagement Rings. There are SO many from which to choose!